Tuck pointing in Houston, TX
Tuck pointing in Sugar Land, TX is highly recommended for all homes with a chimney. In particular, chimneys that are damaged or on the verge of damage! Tuck pointing can fix these areas and protect the structure and integrity of your chimney. Your home, by proxy, will also be protected!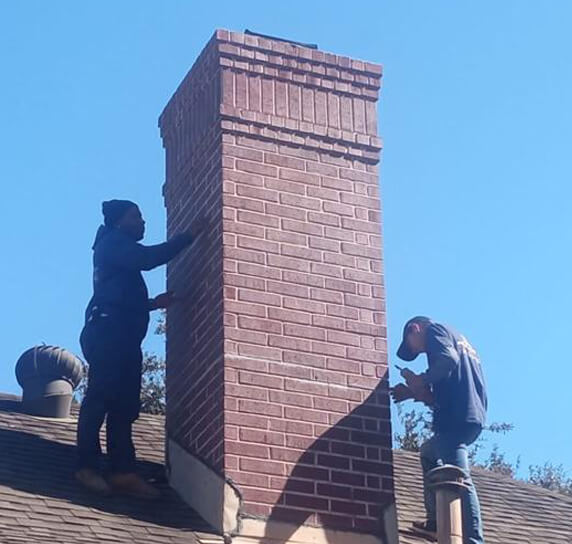 Tuck pointing is required when a chimney's mortar joints are disintegrating or cracked. tuck pointing is also known as tuck-pointing or re-pointing. Re-pointing entails routing out the damaged portion of the mortar used to construct the chimney and replacing it with new mortar. The original shape of bricks and mortar is recreated during tuck pointing.
How does Tuck Pointing in Houston, TX work?
Depending on climatic conditions and how exposed the flue is to moisture, the mortar used to create chimneys in Houston, TX can last up to 25 years. This is heavily affected by the location of the chimney on the roof. During severe weather events these joints are severely damaged, causing the chimney to tilt or completely collapse.
Water damage or settling is primarily to blame for this issue. Water-damaged mortar joints usually necessitate more work because they cover a larger chimney area. These damages run diagonally and may include removing and replacing some cracked bricks. This is known as spot cutting.
How Should A Chimney Be Re-Pointed?
When repointing the mortar of a chimney, the first step is to remove all loose joints and thoroughly clean the surface. The new mortar, which contains a bonding agent, is then mixed in. This ensures a proper bond to the existing brick and mortar when joined together.
After the mortar has been set, it is struck to give it a nice finished look, and any excess mortar is brushed off to provide a clean finish. We recommend waterproofing the newly re-pointed joints and surrounding areas for 30 days after the job is completed to allow the mortar to cure properly. Waterproofing the chimney will help to reduce the need for future repairs.
The advantages of Tuck Pointing in Houston, TX
Tuck pointing is vital to protecting your chimney and your home from the damage of the elements. You want to ensure your chimney can withstand the rain, snow, wind, etc. By hiring someone to fix your tuck pointing, you'll protect yourself, your family, and your home! If you need to schedule a tuck pointing in Houston, TX service, let us know!