Chimney Ventilation Problem
Chimneys are an important part of a home, but they can also be a major source of problems if they're not properly ventilated. In Houston, TX, homeowners often experience chimney ventilation problems that can cause various issues, including smoke and fumes entering the home, water leakage into the home, and even structural damage to the chimney or roof.
Fortunately, there are solutions to these problems. A qualified contractor can install a chimney ventilation system that will properly ventilate the chimney and help prevent any further damage. Homeowners who have experienced problems with their chimneys should consider having this work done as soon as possible for the safety and security of their homes.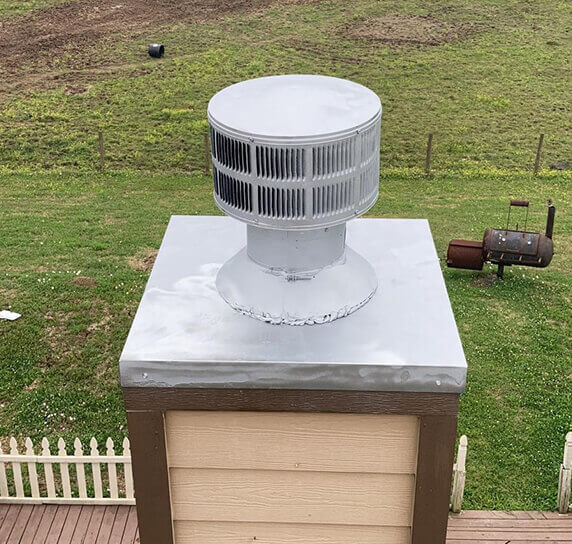 What Is a Chimney Ventilation Problem?
A chimney ventilation problem occurs when there is no proper venting for the flue. This prevents the toxic gases and smoke created by open flames from being released up through the chimney, which can lead to dangerous levels of fumes in the home or water leakage into the structure.
Homeowners should be aware of signs of inadequate ventilation, including discoloration of the exterior walls, windowsills, or roof, high moisture content in the air inside the residence, lack of air movement throughout the home, dark streaks on the chimney's exterior, and smoke detectors that are unusually sensitive to normal cooking smells.
Benefits of Fixing Chimney Ventilation Problems
There are many benefits to fixing a chimney ventilation problem, including:
A properly ventilated chimney helps prevent dangerous fumes and smoke from entering the home. This is especially important for families with young children or elderly members who are more susceptible to the effects of these toxins.
Leaky chimneys can cause water to seep into the home, leading to extensive damage over time. A properly ventilated chimney will help keep rain and snow out, preventing this water damage.
Increased Energy Efficiency
Poor ventilation can cause the furnace or air conditioning unit to work harder than necessary, increasing energy costs. A well-ventilated chimney allows these systems to operate at maximum efficiency, saving the homeowner money on their energy bills over time.
Preventing Structural Damage
A poorly ventilated chimney can allow moisture to collect on the inner walls, leading to corrosion and cracking over time. This is particularly true in areas with severe winters when snowmelt from the roof causes ice dams that restrict airflow in the flue.
Better Indoor Air Quality
Poor ventilation can also affect the quality of the indoor air, leading to poor health among family members. This is especially true for homes with forced-air heat systems where fumes are pushed throughout the ductwork.
What Can Homeowners Do if They Experience Chimney Ventilation Problems?
If a homeowner notices signs that there may be a problem with the ventilation in their chimney, they should contact a professional contractor right away. The best option is to have an inspection done on the chimney that will help determine whether or not there's an issue and what needs to be done to fix it.