Chimney Inspection in Houston, TX
Owning and operating a fireplace requires regular chimney inspection. Like automobiles, fireplaces and appliance utilities, chimneys require routine inspection throughout their lives. While we would all prefer to avoid the expense and inconvenience of chimney inspection, it is necessary for your safety. Failure to do so jeopardizes your system, home, and family.
Let's talk about what chimney inspection means and why it's vital to the health and safety of you, your family, and the integrity of your home.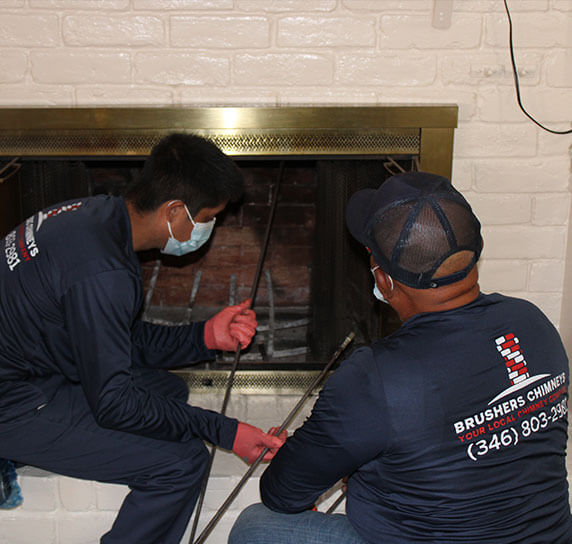 Maintaining Your Fireplace And Chimney
Chimneys collect soot, debris, and insect nests, not to mention creosote, which forms over time due to burning wood. Creosote can leave a thick layer of dark tar behind, making cleaning more difficult. This can result in poor ventilation, resulting in a smoky house or, worse, a fire.
The most important way to keep your chimney in good condition is to have them inspected at least once a year. This is the bare minimum for the proper upkeep of your burning system, regardless of the type of fuel (gas or wood) you use.
Why do you need professionals for your chimney inspection?
Chimney inspection is not something that can be done by just anyone. You need a professional who is well-versed and trained in chimney sweeping, cleaning, and analyzing. They should work in accordance with the Chimney Safety Institute of America. The CSIA is who determines the procedures conducted for chimney inspection.
You need to hire someone who can remove flammable substances such as creosote, which can cause chimney fires. You also need someone who can remove objects of obstruction such as birds nests. Some common warning signs that you may be at risk for a chimney fire include:
You must be able to recognize these warning signs correctly in order to prevent a significant disaster from occurring.
Chimney sweeps will inspect your chimney from top to bottom and notify you if there are any substances that need to be removed. These needs may include flue obstructions, creosote buildup, or other debris. If chimney inspection is required, you can always rely on professionals to do the following:
Chimney inspection is a requirement, not an option. inspection refers to regular sweepings, cleanings, and video surveillance. These things are what help ensure your chimney is in safe working order. The risk you post if you avoid regular chimney inspection is not only come uncomfortable smells, but you also risk starting a fire! Make sure you are regularly providing inspection to your chimney and your fireplace to avoid a disaster.